---
2019 YIDU Under 18's Team Results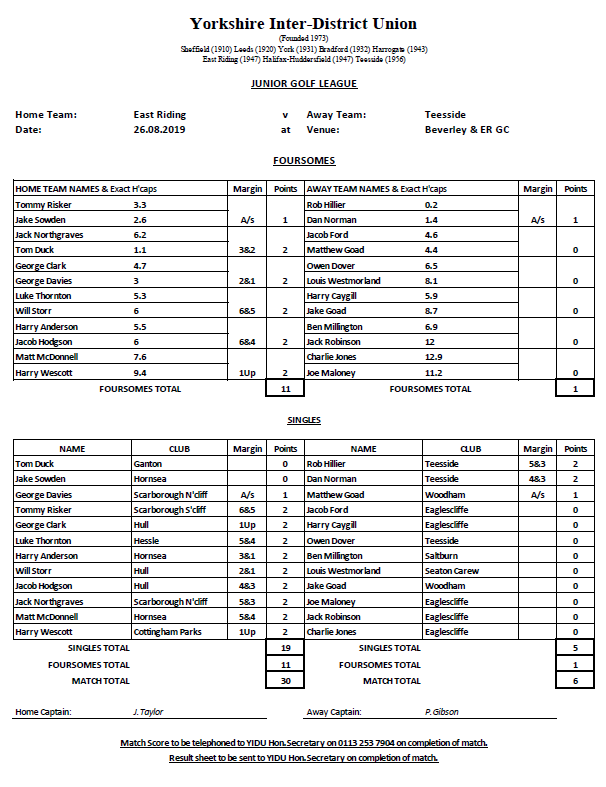 The East Riding u18's headed to Beverley and East Riding Golf Club for their final league match of the season looking for a strong finish against Teesside. Much like the match against Bradford, the day was sweltering with temperatures reaching 30 degrees and on a hilly course like Beverley, keeping hydrated was going to be key.
The morning foursomes could not have gone much better for the East Riding team with tried and tested pairings doing the job with comfortable victories. An 11-1 lead going into lunch meant it was our match to loose.
Our foursomes performances have improved over the course of the year and this set the basis for a relatively comfortable afternoon singles. Early losses at the top of the order were quickly offset by victories in the final 9 matches giving the East Riding a 30-6 victory.
All eyes then turned to the Player of the Year competition Tommy Risker held a 2 point lead over Captain Tom Duck, but with 4 other players just in the mix, the trophy was up for grabs. Tommy was in outstanding form again as a half in the top foursomes match and a comfortable victory in the singles giving him a 3 point victory. 2nd place went to Will Storr and 3rd place to Matt McDonnell.
The team have made great strides since the first 2 games with lots of handicap reductions and with only 1 person leaving the team from todays match the future looks very bright for this East Riding team. Thanks must go to all the players that have represented the East Riding this and in previous years, all the volunteers who kindly give up their time to help with organising and running the fixtures and to the parents who ferry their golfers around...none of it would be possible with out you.