---
2019 YIDU Men's Team Results
Men's Team fails to end the Sheffield Jinx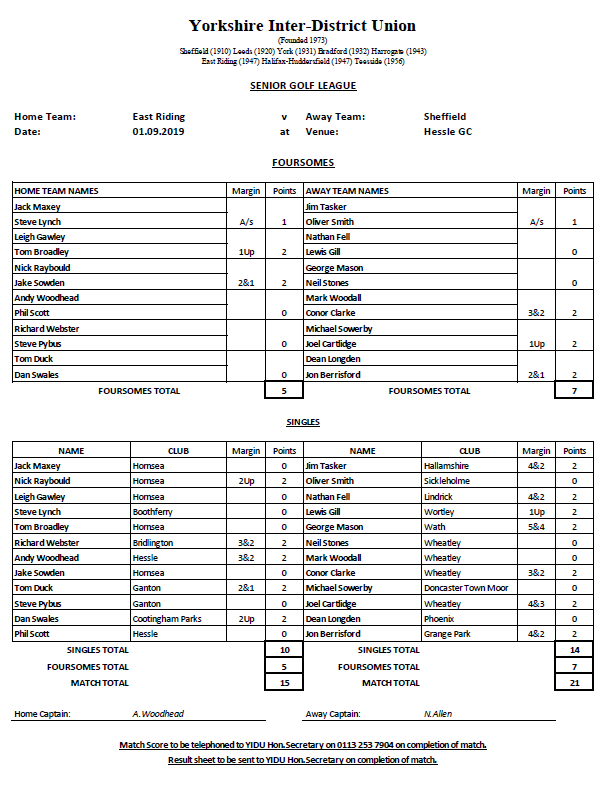 East Riding were looking to end a seven year losing streak when they met a Sheffield team at Hessle on 1st September. Sheffield, unusually, have had a poor season and confidence was high, given the home advantage and Hessle's notoriously tricky greens.
The foursomes were closely contested with East Riding holding a small advantage through the 12th, being up in three and down in two but Sheffield had the stronger finish, forcing a half in the top match against Jack Maxey & Steve Lynch and winning the bottom three games. For East Riding, Leigh Gawley & Tom Broadley managed to hold on for a 1 hole win and Nick Raybould, partnering debutant 15 year old Jake Sowden, won by 2&1. This match had a significant turning point at the 12th, when, with Sheffield close in for a birdie opportunity, Sowden holed out from the greenside bunker and won the hole to be 2 up when it looked like the match would go all square.
Foursomes score: East Riding 5, Sheffield 7
In the afternoon singles, Maxey, who was playing his third 36 hole competition in four days, was not at his best in the top match and lost on the 16th. Also, Gawley and Broadley, at matches 3 and 5, could not match their opponents' games and lost by some margin but Raybould at match 2 turned his game around to win on the last.
This left Sheffield needing three more wins for victory and they were ahead in three and all square in two of the remaining eight games, so there was still a chance for East Riding to pull off a stunning recovery. Sadly, that prospect quickly faded as Lynch, playing at number 4 and leading all the way, lost the 17th and then the 18th to go down by 1 hole.
Rich Webster and Andy Woodhead duly won their games by 3&2, the latter gaining revenge for his morning foursomes defeat, by beating his good friend and former East Riding player, Mark Woodall. Defeats for Sowden and Steve Pybus saw Sheffield over the line before Tom Duck and Dan Swales came home with full points, leaving Phil Scott to complete the match, sadly losing on the 16th.
Singles score: East Riding 10, Sheffield 14
Overall score: East Riding 15, Sheffield 21
The Order of Merit was won by Nick Raybould, who receives the Player of the Year award.