Hessle win at Cottingham and Skidby
A chilly day with a penetrating wind greeted the players in the first East Riding Championship of the 2019 season. The event was hosted by the Skidby and Cottingham golf clubs and owner John Wiles and his team had clearly put the work in beforehand. As a result they did much to enhance the reputation of the Lakes and Parks layout. This was to be a tough test indeed for the Union's finest and many left with a new respect for the courses.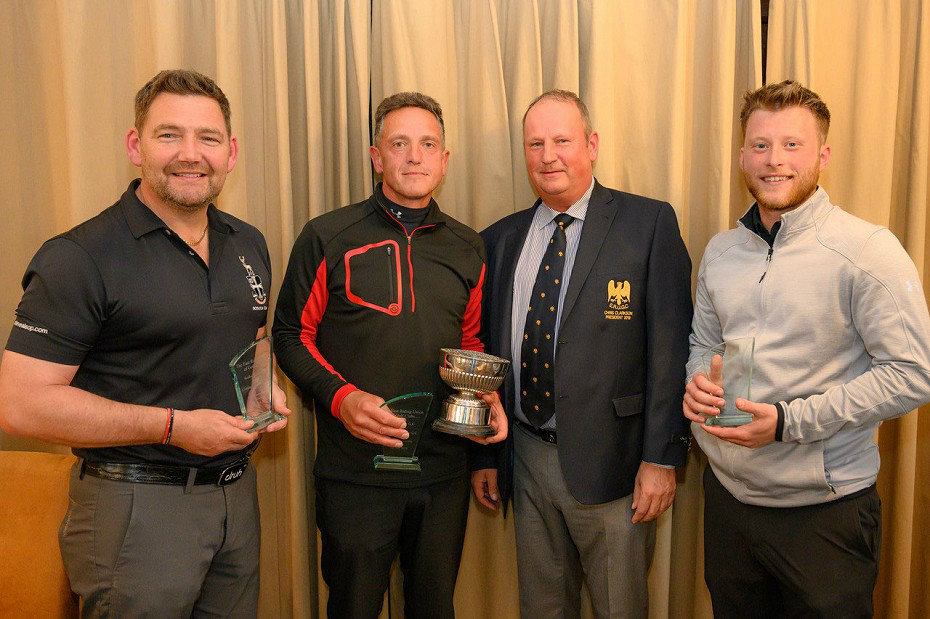 A much vaunted Hornsea squad of Yorkshire's Luke Robinson and East Riding YIDU Team Championship winning members Nick Raybould and Leigh Gawley looked a formidable combination. Hessle included Immediate Past President Andy Woodhead, the ever reliable Andy Lockwood and a returning Lewis Blanchard, whilst Scarborough North Cliff fielded a potentially championship winning team of Simon Boddy, Andy Allcock and East Riding Junior Captain, Tom Duck. Also in the mix were host club Cottingham (1), Beverley (1) Bridlington Belvedere and Burstwick.
At 7.50 prompt Union Official Starter, Steve Robinson, got the first group underway at Skidby. Springhead Park's Kristian Smith hit the first tee shot followed by Cottingham's Dan Swales and Brough's Dan Digby. Between them they managed a birdie, a par and a bogey on the opening hole. It was going to be that kind of day, a battle for every shot and not a cakewalk around the lakes in the park.
Of the early starters, Cottingham's Andy Crawford posted a creditable 5 over par 73 which was only beaten by Bridlington's John Pearce (70), Boddy (72), Woodhead (71), Lockwood (70) and Gawley (72). Pearce's round included a sensational eight 3's and a 2.
At lunch, the leaderboard showed that there was all to play for with Hessle on 218, Hornsea 220, Cottingham 226 and Burstwick on 229. But for a slip of the pencil it could have been closer. Regrettably Belvedere's Steve Bennett mistakenly signed for an incorrect score on the 11th and instead of leading at lunchtime Bridlington was out of contention. In all, four players signed for a wrong score, two were higher and as a result didn't result in disqualification and one player didn't sign his card at all!
Once again in this Championship, play got underway early in the afternoon and the first hole, a par 5, was to prove pivotal. The field, collectively, played it in 35 over par with a solitary birdie for Lockwood. It was a statistician's dream and a golfer's nightmare with a plethora of single and double bogies, a quadruple and a Championship defining quintuple for the unfortunate but ever likable Gawley.
In the end, it was a runaway 12 shot win for Hessle built on the consistency of Woodhead and overall lowest gross prize winner Lockwood who both ground out scores on a tough day. Blanchard, did what he had to do and got this ball round without catastrophe, and the trophy was deservedly returning to Raywell.
Favourites Hornsea finished as runners up with Scarborough North Cliff completing the podium places.
Congratulations to Boothferry for fielding 3 teams on a day when some of the Union's more high profile and venerable clubs couldn't even get a team to turn out.
Many thanks to Chris Gray, the Director of Golf at Skidby & Cottingham, and all his team, for making us feel so welcome and putting on such a successful event.
Union President Chris Clarkson thanked everyone for attending and presented the AB Care Trophy to 2019 Team Champions - Hessle GC.
My thanks go to Union President Elect, John Chambers and Union Past President, Howard Palmer for turning out to support the participants on behalf of the Union Executive. Thanks also to Yorkshire Union President Elect Cameron Thomson who stayed on late to commit the presentation to modern day celluloid and assist with the results.
The Seniors Championship takes place on Friday 17th May at Hessle GC. You can still enter, as long as you are over 50, by contacting John Illingworth at secretary@erugc.co.uk by Wednesday 8th May – the draw will be made the following day and published on the Union website, Facebook and Twitter.
CSS AM - 69
CSS PM - 73