Hornsea crowned victors in 2018
A picture post card sky and the North Bay resembling a mill pond greeted this year's entrants of the East Riding Union's Team Championship at Scarborough North Cliff GC.
Many of the Union's top players were present although the absence of Bridlington's gifted Raybould brothers, Beverley's talented and evergreen Rich Norton along with 2017 winning Captain, Ben Rozenbroek from Hull, was a disappointment. Also ,missing were East Riding golfing icon Alan Wright who was kept away through injury and his Hessle compatriot and 2017 Amateur Champion Andy Lockwood by work commitments.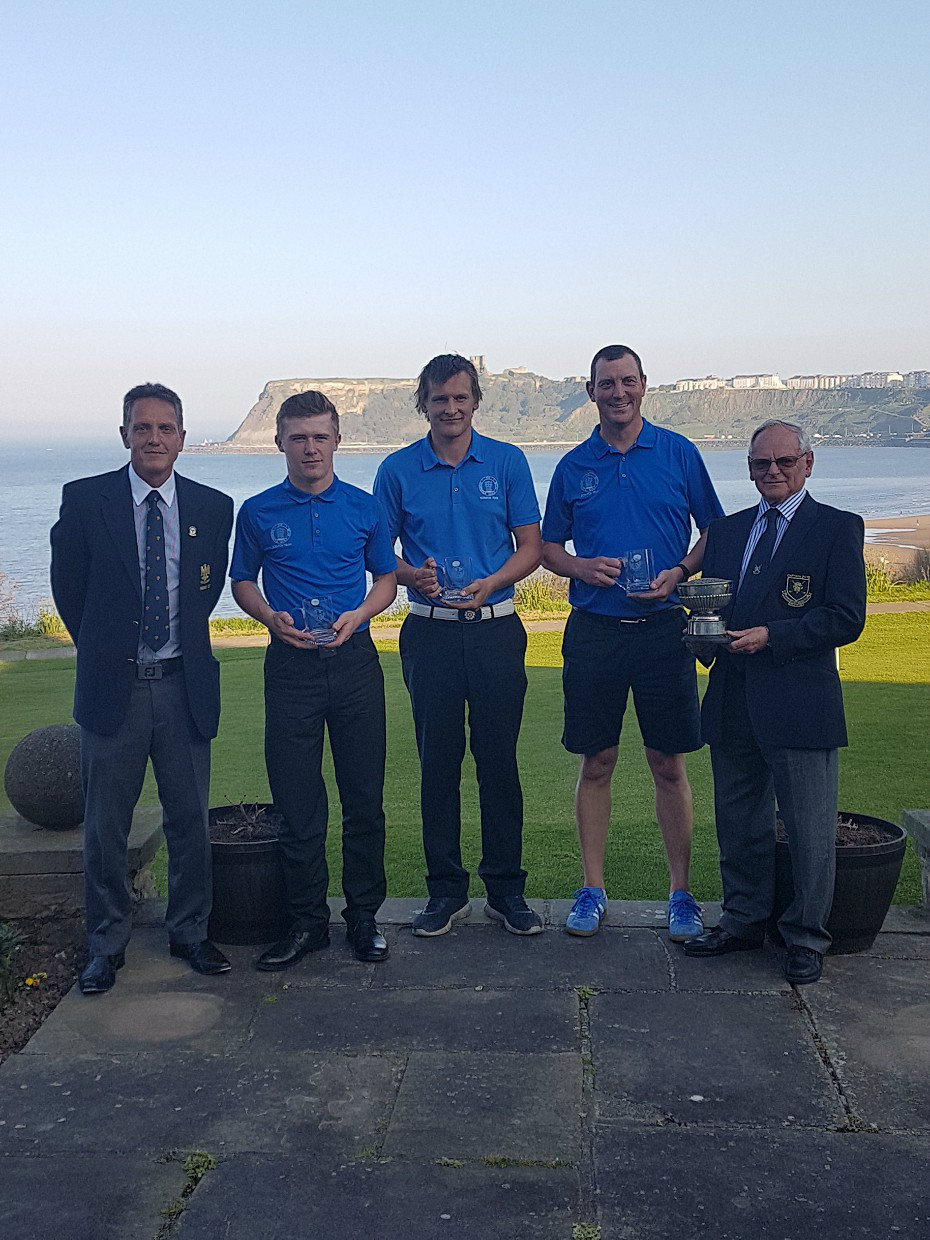 An initial entry of 20 teams under the new format boded well for organisor Chris Clarkson, who gives much of his time as Competition Secretary but these dwindled to a disappointing 15. Nonetheless those present were to witness some excellent golf on a day made for scoring.
The first group out at 7.30 featured ERUGC President Andy Woodhead, Filey's Liam McClachlan and the home club's Simon Boddy. Boddy's 72 was the best of the early groups and was only matched by Hull's Jon Samuel on his first competitive run out of 2018! It appeared that the day was going to be a close run thing but the Hornsea trio of Luke Robinson, Jack Maxey and Leigh Gawley had other ideas.
Yorkshire's Robinson was out in 3 under 35 which included 4 birdies and he followed this with a level par 34 finally signing for an excellent 69. His team mate, Yorkshire Junior Jack Maxey went one better with 36 + 32 = 68 in a round featuring six birdies. With Gawley's steady 76 Hornsea led on 213 by 11 at the lunch interval from Scarborough North Cliff on 224 with Hull 1, Hull 2 and Ganton back on 226. The only other under par round was posted by Hull's Ben Ratcliffe, who was only selected for their second string team. Ratcliffe's 2 under par 70 contained only 8 pars.
A light but noticeable breeze picked up in the afternoon when play recommenced 45 minutes early but this didn't stop Boddy who produced an afternoon low 70 which was only matched by club colleague and Yorkshire Junior, Tom Duck – it was the start they needed if they had any chance of catching Hornsea. Team mate Rich Davis' slightly disappointing 79 set the early clubhouse lead at 443 which wasn't challenged by Hull 1 who were 13 shots poorer than their morning efforts. Ganton were 15 shots poorer on 461 but Hull 2 were 2 shots better to finish on 450 and a creditable 3rd place.
The runaway winners though were the imperious Hornsea, Robinson (71), Maxey (73) and Gawley (74), who finished on 431 for a deserved 12 shot victory.
Of other potential winners, Hessle 1 finished on 458, whilst Beverley had a bad day at the office and will want to forget their total of 489 as soon as possible.
The presentation party of ERUGC President Andy Woodhead and Scarborough Captain John Holborn awarded the A. B. Care Trophy to the winners and thanked the host club for the excellent set up of the course and the warm and friendly hospitality in the clubhouse.
Thanks were also given to Steve Robinson, the ERUGC Official Starter, Chris Clarkson, the ERUGC Competition Secretary whose efforts enabled the event to take place and ERUGC Secretary John Illingworth who manned the desk during the day.
CSS Morning 72 Afternoon 72
JI ~ Hon Sec
6th May 2018