Results of the 2021 Amateur Championship
Scarborough North Cliff 20th June 2021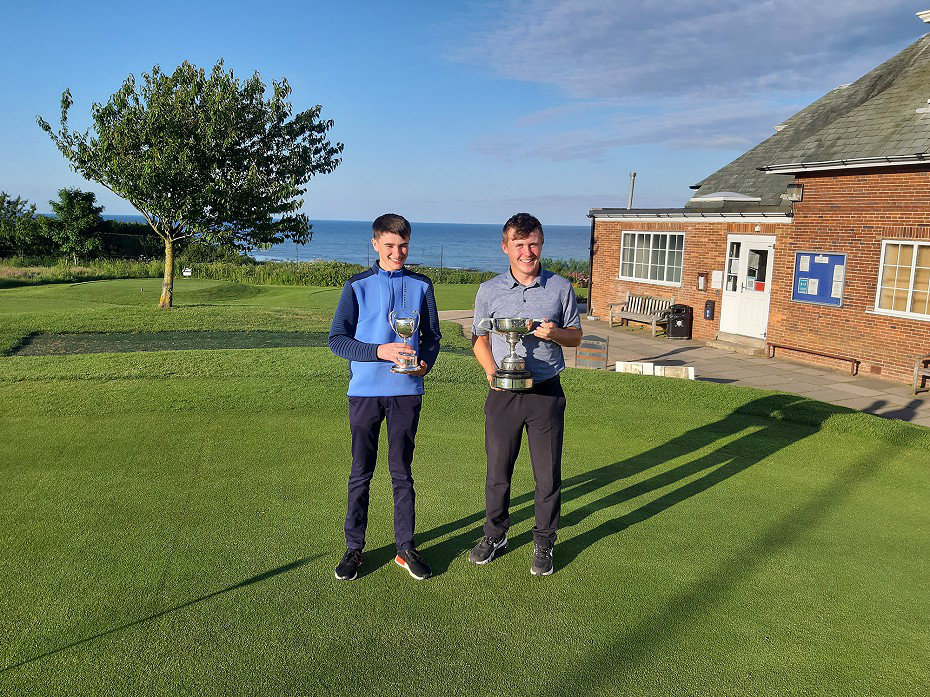 The weatherman was predicting a wet and miserable day for the Championship throughout the preceding week. Mercifully he was, once again, incorrect, with overcast and calm conditions early on followed in the afternoon by some sun but a strengthening breeze. At 07.30 ERUGC Past President Derrick Arden set the first group, in a field of 60 players, on their way with the home club's Simon Boddy being joined by Ganton's Steve Pybus and Driffield' s Jason Oakley.
Universally, the players were highly complimentary about the presentation of the course by Head Greenkeeper, Colin Fairley and his team. A hard but fair test it turned out to be for Hornsea favourites Nick Raybould, his brother Matty, Leigh Gawley and Jack Maxey. Also expected to feature, defending Champion Steve Lynch from Boothferry, Ganstead Park's Mark Lamb, 3 times Champion Fraser Kelly and Ganton's Jamie Gregory.
A large entry from the ERUGC Junior team included Hull's Will Storr, Jacob Hodgson and George Clark, Scarborough South Cliff's Tommy Risker, Yorkshire U14 Boys Champion form Hessle's Luke Thornton, Ganton's Yorkshire Boys Captain, Jake Sowden and Jack Northgraves, Marcus Moore, and Tom Benson from the host club. Special mention to Hornsea's 14 year old Alfie Anderson who entered when many more illustrious players failed to make the journey north. Well done that man!
It was pleasing to see the first group complete their first round in under 3 and a quarter hours – PGA Tour please note. Half way leaders included Maxey and Nick Raybould (70), Will Storr and Jack Northgraves (71) Tommy Risker, Aaron Brettell and Mark Lamb (73) with a further 10 players within 5 of the lead. Matty Raybould on 77 would have been delighted to replay holes 5 & 12 where the 7 dropped shots essentially cost him a tie for the lead and possibly the title. Golf is indeed a game of small margins.
Ostensibly there was all to play for in the afternoon but Maxey had other ideas. He was 4 under par through only 5 holes from where he didn't drop a shot. He hit every green in regulation for an impressive 68, 4 under par. Closest rival Raybould got it to 3 under par through 8 but fell away to a 75. Jack Maxey was the winner of the H.W Collins Trophy and East Riding Union Amateur Champion for 2021 with an emphatic 7 shot victory.
The race for the Rob McCleish Trophy, best Junior in the field, was a much tighter affair with Northgraves, Storr, Sowden and Hodgson all in the mix. However, the morning 71 by Northgraves, on his home course, proved to be just good enough, taking the trophy with 71 + 75 = 146 and 3rd place overall.
Honourable mentions for the afternoon include Steve Lynch (70) , Matty Raybould (71) Boothferry's Jamie Bancroft (72) Simon Boddy (72) and 4th place overall, Rees Brown (72). Junior Captain, George Clark (73) and Lewis Nicholls (73).

My thanks to the host club, Scarborough North Cliff, their team led by Manager Jo Duck were exemplary.
Thank you to ERUGC Officials, President John Chambers, Derrick Arden (morning starter),the incomparable Stephen Larard (afternoon starter) Howard Palmer, Edward Clark, Stephen Wright, Steve Thornton for all doing their bit. It was an absolute delight to see Scarborough legend and ERUGC Past President John Freeman getting down to see some golf.
Many thanks to Competition Secretary Dave Greenwood who, almost single handed, did all the Championship preparation.
60 players participated, thank you – not a bad effort but it is always good to get a full field of 72. Hopefully that will be the case at our Open Championship at Hull GC on 25th July – online entries are available now. We are also hoping that President John Chambers will be able to present all this year's trophies at Hull on that date.
John Illingworth
Union Secretary