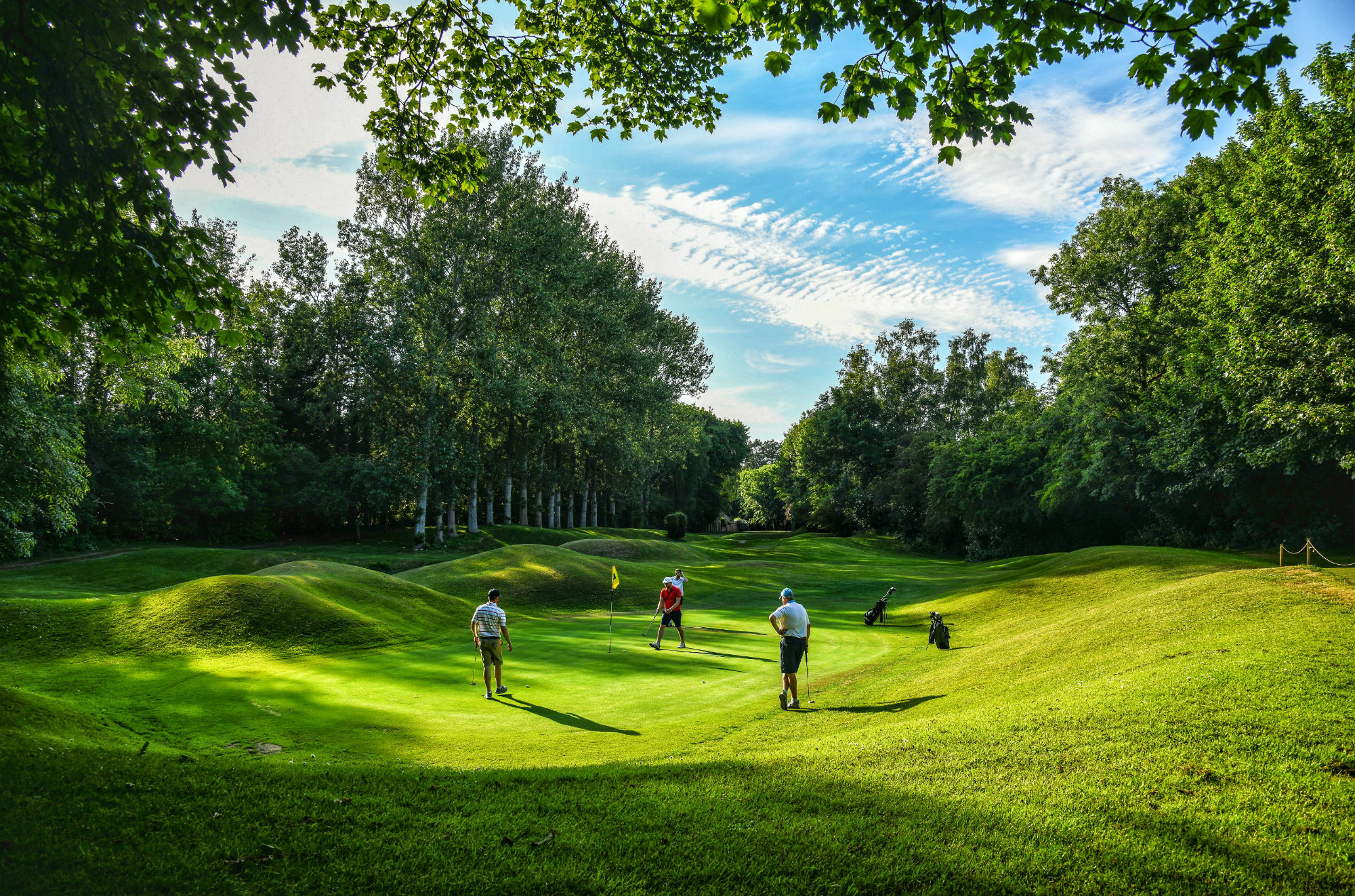 Having clinched the League Championship on the previous weekend, the Men's Team were looking for another trophy by winning the Team Championship on home turf. When Hornsea was chosen as the host club in 2019, it was thought that the team would comprise mainly of players from that club but circumstances dictated that, two years later, none of those players was available. Only Steve Uzzell, who had regained his amateur status in 2021 and former member Mark Lamb had local knowledge, whilst last minute substitute, 17 year old Will Storr, had never played the course before.
Steve Uzzell (Hornsea) hit the opening tee shot at 7.00 am and was back in the clubhouse by 10.45 with a creditable 1 under par 71. Meanwhile, Mark Lamb (Ganstead Park) had one of those rounds to forget and was decidedly downcast with his 80 but Will Storr (Hull) breezed round in level par 72, under the tutelage of non-playing captain Andy Lockwood. Shot of the day was his recovery from the trees at the par 4 ninth, holing out for an eagle 2!
Next to record a score was Steve Lynch (Boothferry) with a 1 over par 73, whilst the best score of the Championship came from 16 year old Tommy Risker (Ganton), who found the greens much to his liking with a 5 under par 67. The final morning score was that of Jamie Gregory (Ganton) with an excellent 1 under par score of 71.
East Riding's total of 434 put them in the halfway lead, 2 shots ahead of Sheffield on 436 - and 10 shots ahead of York on 444.
As a cool northerly began to blow in the afternoon, giving the course some teeth, Uzzell added a level par 72 to his morning 71 for a total of 143. Lamb, still struggling with his game, improved to a 77, whilst Storr could not match his morning form and carded a 77 for a total of 149. Lynch, who "couldn't hole a putt all day", still managed to knock it round in level par 72 for a 145 total.
Unfortunately for Risker, his exceptional early scoring did not continue as he transposed his morning 67 into an afternoon 76 to give a total of 143, whilst Gregory ended the day with, what he hoped would be a title winning birdie on the last for a closing 73 and a level par total of 144.
East Riding's afternoon total of 447 was 13 strokes poorer than its morning tally and this would prove decisive as Sheffield only suffered a 6 stroke deficit to 442, which gave them a winning margin of 3 strokes, 878 to East Riding's 881. Halifax/Huddersfield were a distant third on 897 with York fourth on 902. Teesside did not participate as they were unable to field six eligible players.
An air of disappointment and frustration hung over the team throughout the presentation ceremony on what was so near yet so far. The cold light of day was somewhat different. League Champions for only the fourth time and Larard Trophy winners as the Team Championship runners-up was an excellent return for the 2021 season's efforts.
The various awards were presented by Yorkshire Union President Cameron Thomson and East Riding Union President John Chambers. East Riding's Secretary John Illingworth acted as Master of Ceremonies and Championship Committee "fixer", whilst East Riding Past Presidents, John Deeming was senior referee with Howard Palmer and Stephen Larard acting as starters.
Finally, thanks from the East Riding Union to Hornsea Golf Club for the use of its facilities, with special mention to Yvonne Wright and Richard Pace of Wright Golf Services, Jonny & Emma Hanson for the excellent catering and to Gareth Williams and his team for setting a challenging but fair course.